Yes, I would like more information about Westek Truss Systems
Frequently Asked Questions on Wood Trusses and Engineered Floors
Home | FAQs
What are roof trusses?

Roof trusses are structural building components used in residential and commercial construction. Typically they are characterized by their triangle shape. They are assembled using several pieces of lumber connected with metal plates. A simple version is known as a rafter.

Why should I use Westek roof trusses?

Each truss is designed your exact specifications by an experienced expert using state of the art technology. Each truss is built in a climate consistent, quality controlled environment using computer controlled processes. Special consideration is given to loads (live, dead, environmental and construction), application and occupancy.

Are there different types of trusses?

We design and build many different types of trusses. When designing a roof you are limited only by your imagination. We will bring your creativity to life. Our web and bay designs include but are not limited to: Attic, queenpost, kingpost, fink, hip, gambrel, scissor, howe, bowstring. We will bring your creativity to life.

Will using Westek roof trusses help me save money on my building project?

Yes, roof trusses are the most cost effective component available for your roofing system. Our computer controlled design and fabrication means minimum waste. Trusses arrive to your site ready to lift in place resulting in less theft and vandalism, saving you time and money.
Why should I use Westek Floor systems?

Our floor systems save you money by calculating the exact number of pieces you require for your job. Our floors are designed with your comfort and convenience in mind. Our engineered floor joists provide consistent quality, they resist twisting, warping and shrinking this provides you with a quiet, comfortable floor. The superior strength of these engineered wood products allow for long spans and greater design flexibility.

What are the steps involved in ordering products from Westek?

Send us your blueprints, we will produce a quote, we will provide a layout (necessary for your building permit application), your floor and roof are designed and then built, we deliver your components to your site.

How long does this process take?

Depending on the time of year and complexity of the job this can take 2 to 4 weeks. If you contact us while you are excavating your site your floor and roof systems should be ready when you need them.

Do you offer delivery of roof trusses and floor joists?

Yes, we provide delivery of all our wood truss and floor joist products throughout Western Canada. We roll off our components with state of the art roll off trailers.

Wood Truss Systems
Designed to your exact specifications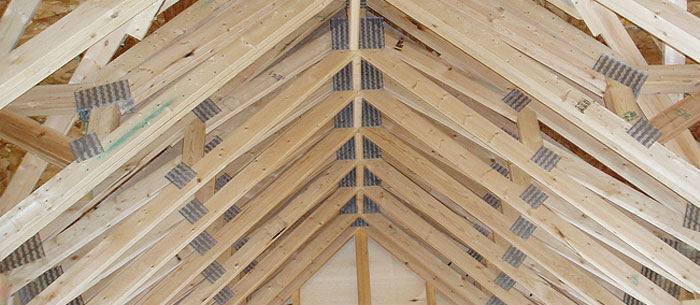 Westek Truss Systems is an industry-leading manufacturer of wood truss systems with flexible, custom designs available. Our manufacturing plant is equipped with skilled craftsmen and automated computer controlled fabrication machines to produce the highest quality materials with superior strength. We pride ourselves on delivering fully engineered truss systems that are cost effective, allow for longer spans and increase your speed of construction.